This route has been thought in order to reduce long sailing while taking advantage of the offshore islands. This safari offers challenging dives, big drop offs, beautiful coral walls and plenty of large and pelagic fishes. There is so much to see you will have spoilt for choice.
In short
World renowned dive sites
Sharks and larges fishes
Wrecks (Big Brother)
Dizzying drop offs and colorful reef
Strong currents possible…
Level 2 and 50 dives+

Age
Little Brother has a very high concentration of life in a reduced area. The walls are covered literally with sponges, anemones and all sorts of soft coral in an astonishing variety of colors and shapes. Of course you will find here plenty of fish. It is not unusual to see sharks: hammerheads, grey Sharks, silver tip and white tip reef sharks.
Big Brothers is where the Aida and Numidia met their ends. The Aida sank towards the north-west tip of Big Brother, overwhelmed by the waves whilst attempting to deliver goods to the lighthouse. Broken in 2 parts, she fell to 30m. Hanging over the precipice edge of the northern tip, the Numidia smashed into Big Brother in 1901. Her upper bow has disappeared into the reef but from mid ships down, the structure vanishes into the dark blue depths. Sat on a ledge around 90m, the Numidia is a spectacular wreck dive at any hour of the day.
All dives sites are subject to weather conditions and Egyptian authorities. The final route taken is at the absolute discretion of the captain and dive guides. But don't worry, our top priority will always be to bring you the greatest satisfaction.
Tour Location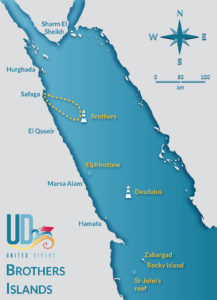 Individual: 1050€ per person
Group (10 people) : 1000€/person
Private boat: 20 000€
Including :
transfer to and from the airport
Full board on board, unlimited drinks (water, tea, coffee, soda)
12 litre aluminium bottle + weights (without belt)
nitrox 29-32% (with certification)
Not included to be paid on site, per person:
return flights
crew tip: 70 euros / person
rental: regulator (30 euros), Stab/suit/regulator/PMT (75 euros)
bottle rental 15 litres: 40 euros / week
government taxes: 50 euros / person (subject to change by Egyptian authorities)
General conditions:
Reservation with 25% of the amount, balance at the latest 1 month before departure date
Rates subject to change (inflation / fuel increase)
14% VAT included