St-John's reef
per person
St-John's is a beautiful reef system which lies approx. 40km north of the Sudanese border. It is a vast collection of small reefs offering some of the most remote and rewarding diving in the Red Sea. The most southern reefs of the Egyptian Red Sea are visited on this safari…
In short
Wild side of the South Red Sea
Sea life diversity
Variety of truly unique dive sites
Underwater caves
Dolphins (Sataya)
Located on the Tropic of Cancer, this chain of reefs is the furthest South you will get! Here you will find exciting drop-offs. The wall of one of the reefs is overgrown with big gorgonians, the wall of the other reef is overgrown with all kinds of colorful soft corals. You will find a lot of fish and in the blue you can see with a little bit luck "big fish" like Hammerhead, Grey Reef Sharks, Silver Tip and White Tip Reef Sharks and Barracudas, Tunas and Mackerels. Sometimes even you can see mantas and dolphins.
Sataya is situated at the very south of Fury Shoals; this huge natural lagoon is formed by a massive reef rising from the depths. The fame of Sataya is its steep drop offs along with pelagic sightings and protected pinnacles smothered in soft and hard corals. But the real stars can be the huge pods of spinner dolphins that frequent here, meaning Sataya has become the Dolphin House of Hamata.
In the Fury Shoals system, the Sha'ab Claudio captivates divers and enthralls photographers with its shallow swim-through system, perfect for leisurely exploration. With five entrances and exits and shallow in depth, you're never 'lost' and can just enjoy the shafts of light dancing through the caves. Rays, nudibranchs, large Napoleon wrasse and morays are all frequently spotted here; you may even see a white tip reef shark or turtle pass by.
All dives sites are subject to weather conditions and Egyptian authorities. The final route taken is at the absolute discretion of the captain and dive guides. But don't worry, our top priority will always be to bring you the greatest satisfaction.
Tour Location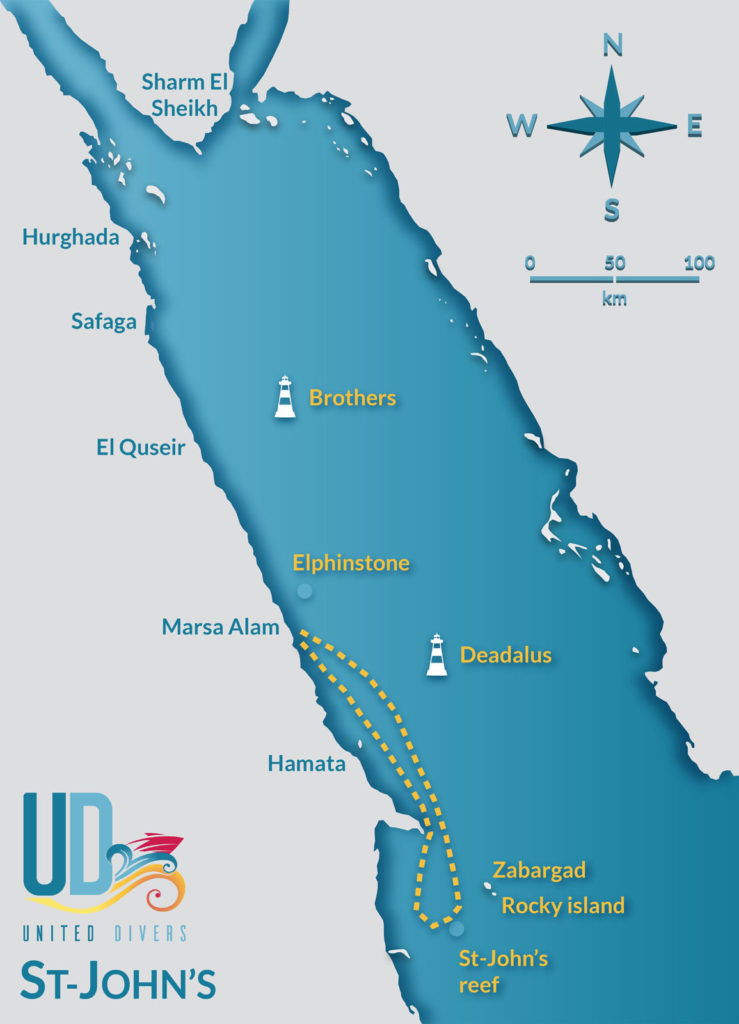 Individual: 100€ per person
Group (10 people) : 950€/person
Private boat: 20 000€
Including :
transfer to and from the airport
Full board on board, unlimited drinks (water, tea, coffee, soda)
12 litre aluminium bottle + weights (without belt)
nitrox 29-32% (with certification)
Not included to be paid on site, per person:
return flights
crew tip: 70 euros / person
rental: regulator (30 euros), Stab/suit/regulator/PMT (75 euros)
bottle rental 15 litres: 40 euros / week
government taxes: 50 euros / person (subject to change by Egyptian authorities)
General conditions:
Reservation with 25% of the amount, balance at the latest 1 month before departure date
Rates subject to change (inflation / fuel increase)
14% VAT included